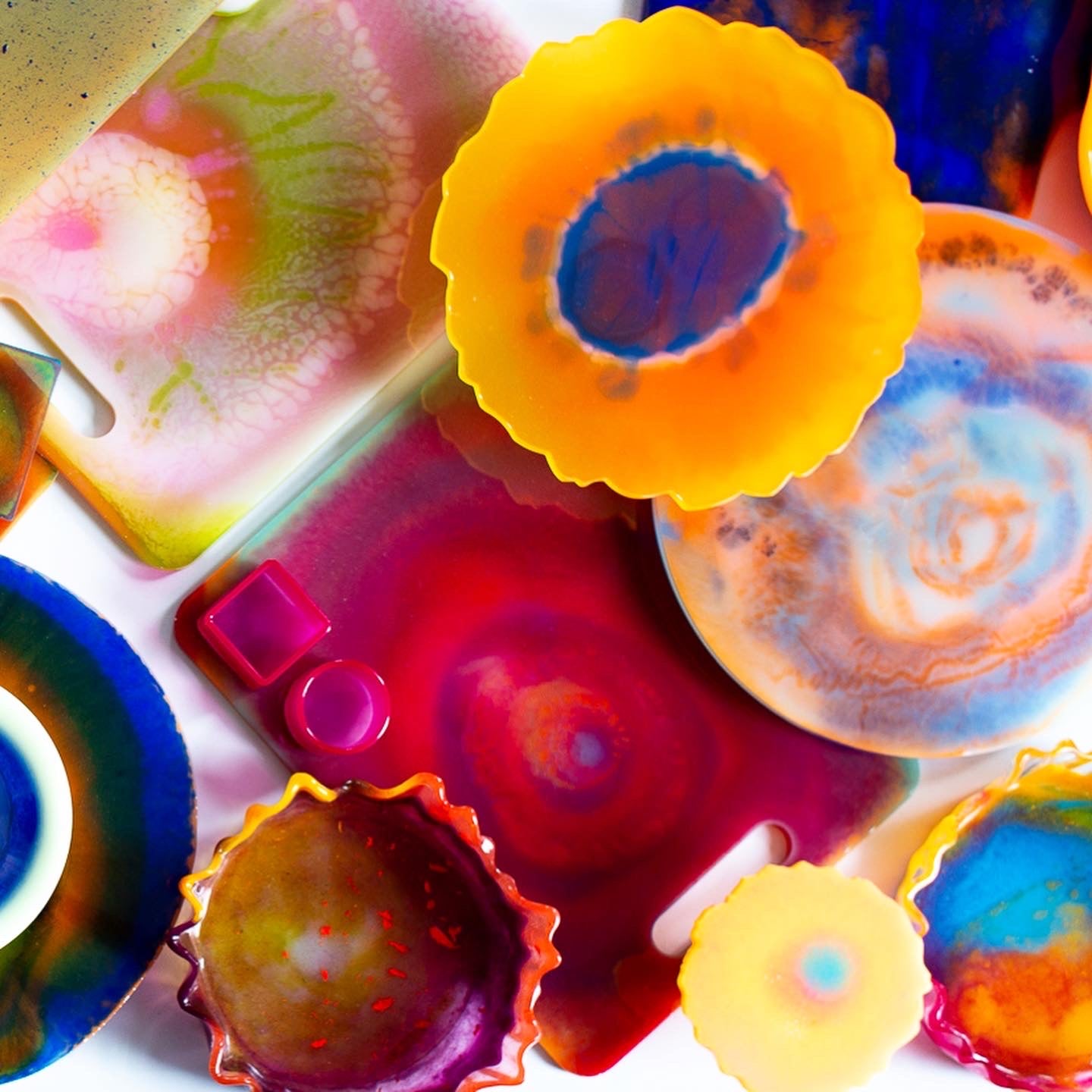 An Interview at the Disco
An interview with Erin Wahed, founder of Resin at the Disco and Sourdough Disco

Erin is an impressive multi-talent. We originally met via my days in advertising and always stayed in touch. When I opened RIDER, she was one of the first makers I wanted to feature within the shop. And boy, am I glad. Her incredibly creative, colorful and inspiring resin wares have stopped people in their tracks. And it doesn't stop there. An avid baker, her sourdough bread creations are as delicious as they are works of art. We're featuring her resin and bread at our first-ever trunk show this Saturday, May 6th. Here's a peek into her process and her personality. Can't wait for you to meet her in person and see why I adore her as much as I do. 

Shop Resin at the Disco here.
Describe your maker philosophy in three words.
Surrender to color.
How does your inner kid still get to play?
I find the intersection of the material I work with and its limitations to be fascinating. Chemistry produces the effects within the material, but everything up until that chemical reaction is boundless. This is my playground. I can pick colors, specific molds, free form, etc. but when it comes down to it, I have to surrender to the material. Even after all this time and learning the nuances of the material, I am still just a kid playing at the table, watching beautiful colors come together and coalesce.
There is very little control with resin, you choose the mold, colors and the method in which you pour, but the rest is left to chemistry. It's the closest I've come to the freedom I felt creating art as a child where everything is based on instinct. I love creating this way. I'm forced to surrender to the process and it is liberating.
How do you want your product to make the receiver feel?
There is a great power in color. A brightly colored outfit can combat the feelings of seasonal depression, like apricity. What a beautiful thought. The feeling of the sun in the winter. A respite from the cold and glum. I want my pieces to evoke this sense of joy.
What is the best gift you ever received at any age?
Letters to a Young Poet by Rainer Maria Rilke. His words spoke to me deeply (they still do), and helped me accept that I'm an artist.
Follow @resinatthedisco, @sourdoughdisco